Benefits of Coconut Oil
for Hair, Skin, and Health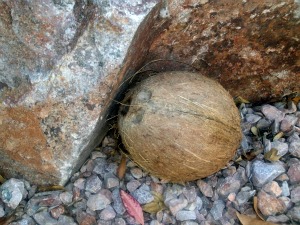 Benefits of coconut oil are many because of its caprylic acid. Its uses includes hair, skin, weight loss, stress relief, bone strength, massage, heart disease, managing cholesterol levels, digestion, kidney problems, dental care, diabetes, dental care, meal preparation, diet, better metabolism, controlling high blood pressure, cancer prevention, curing yeast infections, HIV management and more.
When I think about coconut oil, it's hard to believe it isn't found more often in stores. Could it be because of big money that is already behind vegetable oils? Probably a reasonable question seeing that coconut oil was used widely in the past, before World War II, which involved most of the worlds nations. One of the reasons behind the decline in its usage in the United States had to due with the turmoil between Japan and the United States. Back then, coconut oil was coming from the Philippines, which Japan occupied at the time.
Benefits of Virgin Coconut Oil
When buying coconut oil, it's important to be sure you use a good quality oil and use the right kind for the right situation. Organic coconut oil is free from herbicides, pesticides, and chemicals. If organic is not available, buy expeller pressed which is free from chemical solvents. If you're trying to heal a certain illness or discomfort, you may want to stay away from coconut oil that is processed and refined. Definitely stay away from hydrogenated oils. These methods alter the essential fatty acids that we actually want coconuts to provide. Unrefined virgin organic coconut oil provides these benefits:
Trans-fat free
Stable at high heat for cooking
Promotes HDL (good cholesterol) levels
Decreases LDL (bad cholesterol) levels
Aids in digestion
Increases nutrient absorption
Helps reduce irritation associated with Crohn's disease or ulcerative colitis
Helps treat HIV/AIDS and herpes
Useful for type 2 diabetes
Acts as an antifungal/antimicrobial
Promotes weight loss (coconut oil has less calories than other fats)
Helps prevent hypoglycemia
Helps prevent cancer
Helps reduce inflammation
Provides anti-aging benefits
Useful for an enlarged prostate
Can be used as a massage oil on skin for stress relief
Can be used to moisturize skin
Good for immunity issues
Increases metabolism
Can be used to shine the hair
Cures Candida albicans and yeast infections
Protects the liver
Protects the kidneys

Where to Buy Coconut Oil
Thankfully, now you see more and more distributors selling coconut oil in specialty stores. If you would rather walk into a store and purchase coconut oil, many specialty health stores now carry it. Big chain stores that sell it and each brand are listed below:
Whole Foods (Nutiva, 365, Spectrum, Dr. Bronners, Artisan, Garden of Life)
Vitamin World (Vitamin World)
GNC (Now Foods, Emerald Laboratories, Natures Way, Jarrow Formulas, Nutiva)

You can get the benefits of coconut oil by ordering online as well. Here are some of the online retailers where you can also buy in bulk:
radiantlifecatalog.com
greenpasture.org
amazon.com

nutiva.com
Benefits of Coconut Oil for Hair
No matter what gender or age, you can use it for your hair. You can simply put a very small amount in the palm of your hands. Rub your hands together to soften, then run your fingers through your hair reaching the scalp and all over your hair. You only need to use a small amount because a little goes a long way. It will leave your hair shining and may even help your hair to grow if you message your scalp with the oil often enough. Once a day before going to bed would be a good time to use the oil. Be sure to sleep on a towel in case you're worried about getting it on your pillow.
Benefits of Coconut Oil for Skin
Coconut oil can help protect the skin from aging because it is a stable saturated fat that isn't broken down by free radicals. Free radicals damage cell membranes, DNA, fats, etc. and contribute to lines and wrinkles. It provides moisture better than lotions that absorb into the skin too quickly leaving the skin dry again. Because of its antimicrobial properties, it can keep the body and skin healthy and combat acne. You can use it by applying it directly to areas of dryness on the skin.
Lauric Acid, Capric Acid, and Caprylic Acid
Coconuts are astounding in their antimicrobial abilities. Coconut oil is high in medium-chain fatty acids and contains lauric acid which is also found in mother's milk. Out of all the fats, coconuts provide the highest amounts of antimicrobial properties. Capric acid, caprylic acid, and lauric acid all contain these important health benefits when ingested but lauric acid has the best antiviral activity. These components combined help fight harmful microorganisms and aid in healing diseases and life-threatening conditions such as chlamydia, AIDS, herpes and many more.

Mountain Rose Herbs consistently delivers quality organic coconut oil products. You can get the benefits of coconut oil because they specialize in certified organic herbs, spices and botanicals.
Organic farmers must adhere to strict principles and protocols that ensure the best possible products. With the method of extraction that uses temperatures less than 100 degrees, it allows the coconut to maintain its nutritional properties so we can receive the benefits of coconut oil.
These powerful nutritional properties can be used as a defense against Candida albicans infections and other illnesses. You can even eat the oil straight from the jar or cook your favorite meal in it. Take a look at their product page for more details.